Make Mama Proud
Remember a young Minnelli etching her own path outside the shadow of the legend, Judy Garland.
Experience, the magic and the excitement of Liza Minnelli
portrayed through the sparkling personality of Aurora MacKrill.
---
Aurora's 'Liza Minnelli' brings an undiluted  enthusiasm and zest for life, adding an entertaining motivational touch to a corporate function or a surprise package to a special event.
[doptg id="1"]
 But wait, there's more!
Aurora's Dame Shirley Bassey

'Dame Shirley Bassey' is... well, she just IS!
With her love of costumes and command of the stage, Aurora's 'Back to Bassey' has audiences of all generations engaged. Never afraid to step over the line, Aurora's true comedic/cabaret style shines through. Lots of fun and a must see.
[doptg id="3"]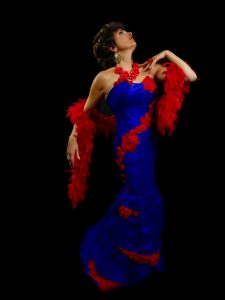 Just when you thought it was safe...
Blondes Have More Fun

From the turn of last century, the notion that 'Blondes have more fun,' has had men and women desire a sample of the experience.
Aurora's comedic cabaret style explores and exposes every follicle of this theory.
Natural, golden, platinum, ash, strawberry, bleached, call it what you will, they're all shades.
So too, is the material Aurora draws from… Bette Middler, Sophy Tucker, Doris Day, Peggy Lee, even Etta James, to name just a phew.
Written and directed by Aurora MacKrill, this show has audiences of all ages intoxicated from the peroxide perms of yesteryear.